Shmuel
Talk

0
17pages on
this wiki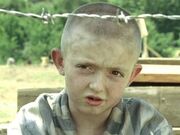 Shmuel is a young Polish Jew who is a prisoner in Auschwitz. Bruno meets him at a fence while exploring near his house. Shmuel is as innocent as Bruno and seems not to quite understand why he is a prisoner. Shmuel reveals that his mother is a teacher who speaks German (which she has taught him), French, Italian and English (which she plans to teach him).  Shmuel loves animals and wants to become a zoo keeper when he grows up. Shmuel's number was 18069. Before arriving to the camp, Shmuel lived in with his mother, father and brother above his father's watchmaking shop. He tells Bruno about how he came home from school one day to find his mother making armbands for the family which the Nazis forced them to wear.
Bruno has a hard time comprehending some of the stories Shmuel tells him because it seems so unimaginable to him. Shmuel becomes worried once his father goes missing in the camp and asks for Bruno's help in finding him. Bruno's willingness to help his friend results in both of them dying at the merciless hands of the Nazis. At the end of the story he and Bruno die together in the gas chamber while having a final exploration and trying to look for Shmuel's lost father.
"What's going on?" yells Bruno.
"I don't know!" Shmuel replies. "We are getting a shower!" Another shouts, then they are enclosed in the chamber and are gassed. Them among the other people in the chamber died.